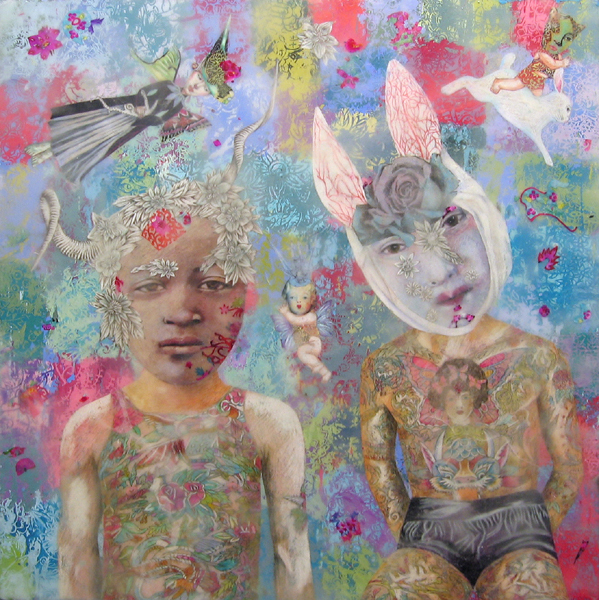 14 Aug

Pandora's Box
"Our task must be to free ourselves from our prison by widening our circles of compassion to embrace all living creatures and the whole of nature in its beauty."–Albert Einstein
Lori Field is primarily self-taught, having less than a year's formal training in visual arts at S.U.N.Y. College at Purchase, NY. Field left school, moved to New York City, and earned her living first as a bartender, then as a freelance textile designer and illustrator for nineteen years. She began creating fine art again in 1996 after a series of events caused her to reflect and rethink the direction of both her personal and creative life. Field is currently represented by Henry Boxer Gallery in London, England and Tag Art Gallery in Nashville, TN.
She exhibits her work regionally, nationally, and internationally in many group and solo exhibitions. Her paintings have been exhibited at the Outsider Art Fair in New York City as well as in the New Jersey Fine Arts' Annual Cultural Exploration at the Morris Museum, Morristown, NJ. She was chosen as one of the New Jersey Printmaking Fellows of 2004.
Field also teaches courses in mixed media drawing and collage at Montclair Art Museum's Yard School of Art, Montclair, NJ, and encaustic painting workshops out of her home studio. She also enjoys curating group exhibits. Among the exhibitions she has curated, with her co-curator Elizabeth Seaton, are The Insomnia Show, Three Twins, No Word for Inhumanity and the Black and White Show. Next, Field hopes to curate The Tattoo Show and The Bunny Show.
http://www.lorifieldfineart.com/GalleryMain.asp?GalleryID=16209&AKey=KMCEL7Y3″>An encaustic by Lori Field.
http://www.lorifieldfineart.com